Our work in structured finance has seen the growth of individuals, societies and organizations.
A career at Northern Arc Investments is a unique fulfilling journey of creating impact. to self, the organisation and society at large. Join us to witness the growth of the emerging sectors of the country and take pride in being a vital part of the financial inclusion sector.
We believe our people are our most valuable asset. The knowledge, passion, commitment and ownership that every person at Northern Arc Investments has brought has fuelled our organization to great heights.
Our skin-in-the-game as an investor and our high standards of transparency, integrity and work ethics as a business, continue to ensure that we stay aligned and focused on our path of providing capital markets access to all individuals and institutions who face challenges in terms of access to capital.
We are a diverse group of people from all parts of India; we pride ourselves on being an equal opportunities organisation, with in-depth local understanding in the markets we operate. Our strength comes from our collective belief in our mission and our work and it is this team spirit that enables us to behave as one unit across the different business functions, each giving its best as a team and all put together making the sum bigger than the parts.
As part of the Northern Arc Investments DNA, we have an inbuilt orientation to work in close partnership with our originator clients, our investors, to provide customized solutions and services that meet their needs, whilst building a sustainable business for the future, for ourselves and the communities in which we operate.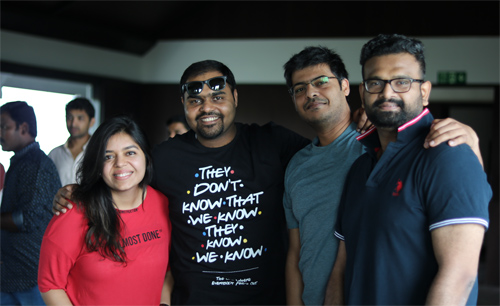 Why Northern Arc Investments?
If finance is your passion, Northern Arc Investments holds the key to a world of opportunities in the financial inclusion sector. There are numerous, inspiring, self-starter success stories that have led Northern Arc Capital to stand today as a prosperous organization in the NBFC sector with many pioneering industry initiatives to its credit.
We believe in gathering experience on the go and applying the learning to passionately steer the growth of the company to great heights. If you possess the open mind for continuous learning, enjoy innovating, brainstorming, laughing and an open young culture with the zest to make a difference in your line of expertise, Northern Arc Investments gives you the right environment. Hop on board to join our journey that explores an ocean of opportunities in the space of financial inclusion.
Benefits at Northern Arc Investments
Medical Insurance
Fitness Reimbursement
Training & development
Term Life Insurance
Annual Offsite
Annual medical check up
Personal Accident Insurance
About The Hiring Process
Online application
Once you find a role that interests you, please submit your online application, including your latest CV/resume. Remember to think about the role you are applying for and tailor your CV/resume to clearly present relevant skills and experience. Scroll down to find a relevant opportunity. Mention the position applied for clearly in the subject line so we don't lose you.
Assessment
All applications will be reviewed for applied open positions. If we find suitability out Talent team will call you to hear your story.
Interview
If your story resonates with us interviews will be scheduled. There may be multiple rounds as we make sure stakeholders to the role are also keen on the hire. Patience and perseverance is always appreciated by Northern Arc Capital.
We pride ourselves on being an equal opportunities organisation, with in-depth local understanding in the markets we operate.